Regular price
$4,355.00
Sale price
$4,355.00
Unit price
per
Couldn't load pickup availability
Availability:
25 in stock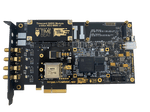 Regular price
$4,355.00
Sale price
$4,355.00
1 year support
Presenting the OCXO TimeCard: A Beacon of Stability and Precision featuring the Rakon ROD2522S2 oscillator.
Within the ever-evolving landscape of precise timekeeping, the OCXO TimeCard emerges as a beacon of unwavering stability and unmatched precision. With a keen focus on the OCXO (Oven-Controlled Crystal Oscillator) variant, this advanced timekeeping solution embodies the essence of authoritative precision. 
Key Technical Parameters:
Nominal Frequency: Operating within the range of 10 to 20 MHz, the OCXO TimeCard offers standard frequencies of 10, 12.8, and 20 MHz, setting the stage for precise temporal synchronisation.

Operating Temperature Range: With a span from -40°C to +85°C, it thrives in diverse environmental conditions. A wider temperature range of -40°C to 95°C is available upon request, showcasing its adaptability.

Frequency Stability Over Temperature: A remarkable feat, boasting a mere 0.5 ppb peak to peak variance, ensuring steadfast performance across fluctuating temperatures.

Free-Run Accuracy (20 Years): Demonstrating an impressive ±1 ppm accuracy over two decades, this OCXO TimeCard ensures longevity and consistency in timekeeping.

Supply Voltage Stability: An astonishing ±0.5 ppb stability, even with a ±5% variation in supply voltage at 25°C, highlights its unwavering precision.

24-Hour Holdover Performance: A mere ±1.5 µs deviation after 3 days of continuous operation, maintaining temporal integrity under constant temperature conditions.

Hysteresis: An exceptionally low 0.3 ppb variation over a temperature gradient of -40 to +85°C, at a rate of 10°C per hour.

Long-Term Stability (Ageing): Displaying a remarkable ±0.2 ppb/day, ±10 ppb/month, and ±50 ppb/year after a week of operation, it demonstrates its commitment to enduring precision.

Compensated Ageing: Exemplifying ±0.02 ppb/day, a testament to its enduring accuracy.

Short-Term Stability: A minimal ±0.005 ppb variation over a 1s to 10s integration time, underscoring its unwavering precision in short intervals.

Retrace at 25°C: An astonishingly low ±1 ppb deviation after 24 hours off and 1 hour on, demonstrating consistency.

Supply Voltage (VCC): Operating at a standard 3.3 V, with options for 5.0 V and a ±5% variation.

Power Consumption: During warm-up, it consumes a modest 3.5 W, reducing to a steady-state 1.5 W at 25°C under calm air conditions.

Warm-Up Time: Quick to stabilize within ±5 minutes, ensuring minimal disruption.

Oscillator Output (Compatible CMOS): Displaying compatible CMOS characteristics, with VOH at 2.4 V, VOL at 0.4 V, and rapid rise and fall times of 5 ns.
The OCXO TimeCard, with its meticulous attention to detail and unwavering commitment to precision, stands as the embodiment of timekeeping excellence. Elevate your endeavours to new heights of stability and accuracy with this authoritative timekeeping solution.
Features:
24-hour holdover (1.5 μs, 4°C temperature windows)
Frequency stability (FvT): <0.5 ppb pk-pk over -40 to 85°C
low ageing: <0.2 ppb/day
Compensated ageing: <0.02 ppb/day
Small form factor and low height

Applications:
Edge grand masters
DU/CU/servers
Cell-site routers
Front-haul switches
NIC time cards
Test equipment
GNSS modules
Choosing a selection results in a full page refresh.