Regular price
$321.00
Sale price
$289.00
Unit price
per
-$32.00
Couldn't load pickup availability
Availability:
14 in stock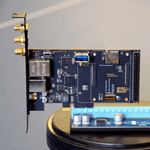 Regular price
$321.00
Sale price
$289.00
Without CM4 / Full height
Unleash the true potential of your Raspberry Pi Compute Module 4 with our state-of-the-art PCIe Baseboard. Designed to seamlessly integrate with any PCIe-capable device, this innovative baseboard empowers you to harness the incredible processing power of the Raspberry Pi CM4 in a whole new way.
Key Features:
Universal Compatibility: Our PCIe Baseboard opens up a world of possibilities by transforming your Raspberry Pi CM4 into a PCIe-ready powerhouse. Whether you're developing high-speed data applications, machine learning solutions, or advanced IoT systems, this baseboard ensures compatibility with a wide range of PCIe-enabled devices.

Effortless Integration: Say goodbye to complex wiring and configurations. Our baseboard provides a user-friendly interface that allows you to connect your Raspberry Pi CM4 effortlessly. The board also offers comprehensive I/O options, including USB, Ethernet, HDMI, and more, ensuring you have the connectivity you need.

Enhanced Expandability: The PCIe Baseboard doesn't just stop at PCIe integration. It's designed with expansion in mind. Benefit from multiple expansion slots, GPIO pins, and peripheral interfaces, granting you the flexibility to tailor your setup to exact project requirements.

Robust and Reliable: Crafted with precision engineering and high-quality components, this baseboard guarantees stability and durability in every application. Your Raspberry Pi CM4 will stay securely in place, even during demanding tasks or when deployed in dynamic environments.

Endless Applications: Whether you're an enthusiast, a hobbyist, or a professional developer, our PCIe Baseboard unlocks a new realm of possibilities. From edge computing and network acceleration to multimedia processing and industrial automation, the potential applications are limitless.
Elevate your Raspberry Pi Compute Module 4 to new heights with our cutting-edge PCIe Baseboard. Transform your projects into high-speed, high-performance solutions that push the boundaries of innovation. Don't settle for ordinary – embrace extraordinary possibilities with our PCIe Baseboard today!
Unlock the power of precise time synchronization effortlessly with our TimeCard Mini Base Board. Designed to seamlessly integrate NMEA signals and 1PPS without requiring custom drivers, this PCIe carrier board brings unparalleled accuracy to your projects.
Key Features:
Effortless Integration: The TimeCard Mini Base Board is a hassle-free solution that effortlessly delivers NMEA signals and 1PPS. Say goodbye to complicated setup procedures – this board is designed for plug-and-play convenience.

Enhanced Connectivity: Equipped with two serial ports and access to the in-band Ethernet port of CM4 boards, our PCIe board ensures seamless communication and connectivity options, allowing your projects to thrive.

Integrated microSD Card: Store essential data directly on the board thanks to the integrated microSD card slot. No need to worry about external storage – everything you need is conveniently onboard.

Versatile Software: Our free Timebeat software is compatible with both x86_64 and ARM systems. This powerful software empowers you to create grandmasters and high-accuracy clock sync clients at competitive prices, ensuring your projects remain ahead of the curve.

Industry-Approved: The TimeCard Mini Base Board is already in production and trusted by industry-leading hyper-scalers. Join the ranks of those who demand top-tier performance and reliability.

Perfect Pairing: For optimal results, pair the TimeCard Mini with LEA-M8F, LEA-M8S, or MAX-M10S modules. Achieve the pinnacle of performance by combining the TimeCard Mini Base Board with these recommended components.
Empower your projects with unmatched accuracy and synchronization capabilities. The TimeCard Mini Base Board is your gateway to seamless NMEA signal and 1PPS integration, all wrapped in a package trusted by industry leaders. Elevate your endeavors – choose the TimeCard Mini today!

CM4 included is minimum spec 2gb lite with 8 GB microSD card included.
*CM4 spec can be better dependent on stock or custom request
**GNSS unit not included
*** We have not tested all Raspberry Pi CM4 Clones with this device.
Choosing a selection results in a full page refresh.