By

timebeat.app
Clock Sync Network Adapter 25GbE (with 1PPS) - based on Intel E810-XXVDA2
Regular price
$616.00
Sale price
$554.00
Unit price
per
-$62.00
Couldn't load pickup availability
Availability:
Low stock: 10 left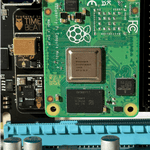 Regular price
$616.00
Sale price
$554.00
Introducing the Next-Level Precision: Clock Sync Network Adapter 25Gbps (with 1PPS) - Powered by Intel E810-XXVDA2!
Are you ready to elevate your network synchronisation to unparalleled heights? Say hello to our Clock Sync Network Adapter, a cutting-edge marvel designed to redefine the way you experience precision and connectivity. Built upon the solid foundation of Intel E810-XXVDA2, this adapter takes synchronisation and network performance to a whole new dimension.
Unrivaled Precision: Experience synchronisation like never before with our Clock Sync Network Adapter. Featuring an integrated 1PPS (One Pulse Per Second) signal, every tick is a masterpiece of precision. Whether you're in the finance sector, telecommunications, or scientific research, this adapter ensures that all connected devices march in perfect harmony, providing you with impeccable accuracy down to the nanosecond.
Blazing-Fast 25GbE Connectivity: Speed meets accuracy with our 25GbE network connectivity. Transfer data, share information, and collaborate seamlessly at lightning-fast speeds. With 16 GT/s x8 lanes and Dual SFP28 ports, whether you're sending large files, streaming high-definition media, or engaging in real-time communication, this adapter ensures that your network operates at its full potential without compromising on synchronization accuracy.
Intel E810-XXVDA2 Powerhouse: At the heart of this innovation lies the Intel E810-XXVDA2, a name synonymous with unparalleled performance. Benefit from Intel's state-of-the-art technology, ensuring that your network adapter not only meets but exceeds industry standards. Enjoy reliable connectivity, remarkable throughput, and enhanced efficiency, all brought to you by the prowess of Intel engineering.
Seamless Integration: Upgrade your network infrastructure without the hassle. The Clock Sync Network Adapter seamlessly integrates into your existing setup, making the transition a breeze. Its user-friendly installation process ensures that you spend less time configuring and more time experiencing the benefits of precise synchronisation and high-speed connectivity.
Versatility Redefined: Whether you're operating in a data center, research lab, or demanding industrial environment, this adapter is designed to excel. Its adaptability and robustness make it a versatile choice for a wide range of applications. Count on it for flawless synchronisation in high-frequency trading, accurate time-stamping in scientific experiments, and network reliability in critical infrastructure.
Future-Ready Investment: Invest in a future where precision and speed are non-negotiable. The Clock Sync Network Adapter 25GbE (with 1PPS) - powered by Intel E810-XXVDA2 - is not just a product; it's a statement. It's your gateway to a network that's finely tuned for the demands of tomorrow. With this adapter, you're not just catching up to the pace of innovation; you're setting it.
Embrace the convergence of accuracy and speed. Upgrade to the Clock Sync Network Adapter 25GbE (with 1PPS) today, and experience a network that doesn't just keep up with time – it defines it.
Host Interface:

Compliance with PCIe 4.0
Concurrency for 256 non-posted requests
Software Interface:
Base mode VF compatibility with Intel® Adaptive Virtual Functions Specification

Tx/Rx Queues
2048 Tx queues and 2048 Rx queues
Dynamic allocation of queues to functions and VSIs
Interrupts
2048 interrupts vectors, allocated in a flexible manner to queues andother causes
Multiple interrupt moderation schemes
20M interrupts/sec
Control Queues (a.k.a. Admin Queues)
Mailbox Queues for PF-VF and driver-driver
Admin Queues for Software-Firmware control flows
Sideband Queues for Software to access IPs inside the E810
256 Tx Doorbell (DB) Queues
512 Tx Completion Queues
Quanta Descriptor (QD) Queue per Tx queue. Quanta information is also embedded in the Tx doorbell
Programmable Rx descriptor fields
Packet Processing:

Enhanced Data Plane Development Kit (DPDK)
General
Stages of parsing, switching, ACLs, classification, packet modification
Programmable packet processing pipeline
Profile based
Programmable actions
Propagation of priorities between stages
Parser
Parses up to 504B from packet header
Parse Graph based
Session-based parsing
Programmable parse engine
Binary Classifier (VEB Switch)
768 switch ports (VSIs)
Programmable forwarding rules
Storm Control
ACLs
8K programmable TCAM entries
Tiling capability to n*40b width
Classification Filters
Hash-based statistical distribution
Intel® Ethernet Flow Director (Intel® Ethernet FD) flow-based classification
Flow-based identification of iWARP and RoCE flows - Programmable rules • Modifier
Insert (Tx), remove (Rx), and modify of packet VLANs
L3 and L4 checksums and CRC
Virtualization:


Host virtualization via VMDQ and SR-IOV
Up to 256 SR-IOV Virtual Functions
Stateless offloads for tunneled packets
(network virtualization support)
Malicious VF protection
Virtual machine load balancing (VMLB)
Advanced packet filtering
VLAN support with VLAN tag insertion, stripping and packet filtering for up to 4096 VLAN tags
VxLAN, GENEVE, NVGRE, MPLS, VxLAN-GPE with Network Service Headers (NSH) Intel® Ethernet Adaptive Virtual Function drivers
RDMA:

iWARP and RoCEv2
256K Queue Pairs (QPs)
Send Queue Push Mode
Note: RDMA is not supported when the E810 is configured for >4-port operation.

QoS:

WFQ Transmit scheduler with nine programmable layers
Pipeline sharing and starvation avoidance
QoS via 802.1p PCP or Differentiated Services Code Point (DSCP) value
Packet shaping
Manageability:

SMBus operating at up to 1Mb/s
DMTF-compliant NC-SI 1.1 Interface at 100Mb/s
MCTP over PCIe and SMBus
Enterprise-level management schemes via local BMC
SNMP and RMON statistic counters
Watchdog timer
PLDM over MCTP; PLDM Monitoring; PLDM firmware update; PLDM for RDE
Firmware Management Protocol support
Power Management:

Supports PCI power management states D3hot and D3cold
Time Synchronisation:

Time stamp with each Rx packet
Selective time stamps for Tx packets
IEEE 1588 PTP v1 and v2
Time synchronisation signaling with other local platform ingredients
Pre-Boot:

Signed UEFI option ROM compatible with HTTPS boot
Security:

Hardware-based Root of Trust
Authentication on NVM Read and Power On
Built-in detection of firmware/critical setting corruption with automated device recovery
Choosing a selection results in a full page refresh.